5 Ways to Quirk up a Diwali Corner…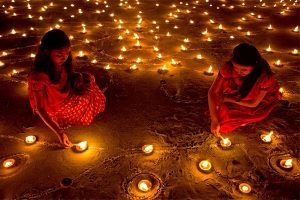 Image Credit: Google
The festival of lights and love is just around the corner and today I am going to share with you ways to quirk up your decor for this festive season. Diwali is about lots of lights, festive colors and flowers. And we are going to help you create your perfect Diwali corner in your home.
Here are a few things that will help to achieve the look that you desire. So be ready to bring home some quirky new pieces of décor and enjoy this festive season like never before. Let your house reflect your excitement and youthfulness and shout out loud "Happy Diwali"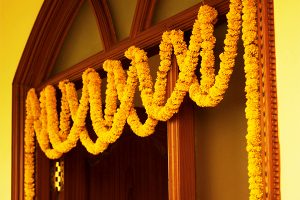 Bandhanwars
The sparkling jewels and the colorful threads in your doorway are going to bring a smile on every person's face who visits you. As a person enters your house; you entrance will greet them before even you do with this one. A festive bandhanwar on your door frame is the perfect way to start with your decor. During the festive season the market is flooded with a variety of them, I am sure you'll find the one just perfect for your home.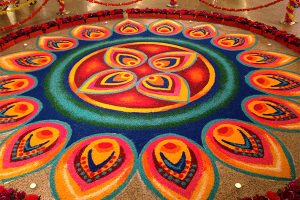 Rangoli
We Indians are colorful souls and no amount of color is ever over the top for us. Be it the traditional rangoli or the trendy one, rangolis are another ways you can express your festive vibes. Now you don't need to be very skilled or artistic to have a rangoli in your lobby. There are a lot of rearrange-able rangolis made with kundan work and pearls which will uplift your decor to another level.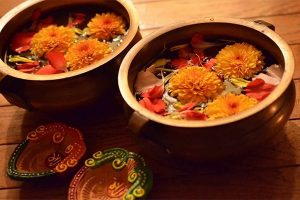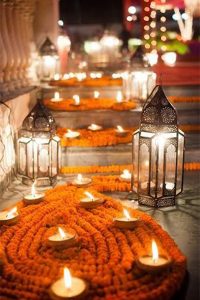 Flowers
The fresh aroma and the beauty of nature holds its special place in our hearts and thus, it has to also be a part of our home as well. No Indian festival is complete without flowers. You may use flowers to make rangolis, to decorate your table tops, to hang up with your lighting, and what not. The possibilities are infinite of decorating with flowers, and it's special because nothing else can add the freshness that flowers do.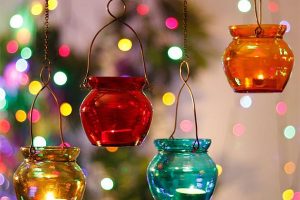 Lanterns
Ever thought of Diwali without imagining a lantern in the scene? No right? That is how important lanterns are in Diwali. Buy it or make it like a family art project, each one of them is special and brings in the Diwali vibes like nothing else. As the festivities are approaching new styles and designs are entering the market. I am sure you'll be surprised with what's new.‌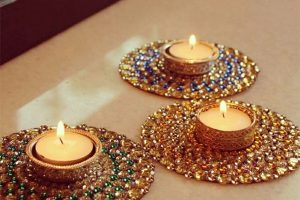 Diyas
From ages diyas are the example of light and the festival of light is so incomplete without them. You can opt for colorful diyas, if you wish for something that really shouts 'Diwali is here' go for something with some kundan work and mirrors. It will go really well with the rangoli as well, if you can find these, make them. The decoration material is easily available in stationary stores, just glue them as per your liking and you will have your statement diyas ready.
So my dear festive lover, are you excited to get your home Diwali ready? I know I am, and this year it's going to be extra fun and extra quirky. Which one among the five got you really excited? For me it would be the lanterns, and diyas; or maybe I am just excited to go shopping.
---
By- Anki Bhoye
I am an architecture student and I am strongly drawn to Design, Decor, DIY and Lights. I love experimenting with different styles of designs from Art-deco to Contemporary, from Eclectic to Scandinavian and so many more. If I was to describe my style of design, I like to find a balance between traditional and modern style; Pastels and Neutrals are my favorite colors to play with. I love layering and adding textures through different materials of fabrics, metals, woods and tiles. I feel that's what gives a design some personality of people staying there and makes it unique.