CUBS CONVERSATIONS with Krish: A Journey through a DIY Home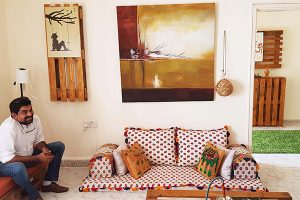 Design depends on varied factors. It could be your senses, appeal, inspiration, observation or many others. But to have an eye and penchant for design without any formal degree in interiors and even more to work on it to implement your thoughts into reality is not everyone's cup of tea.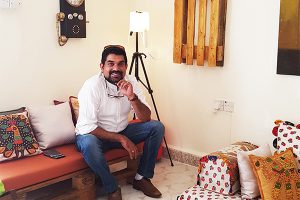 Krish is a mechanical engineer by profession and a partner with Doha's first two private channels Radio Olive and Radio Suno.  When CUBS team saw this place we thought it looked straight out of  Hobby Idea's DIY Home in a Box. Pieces of salvaged wood, nails, hammer, saw and lacquer were all that was required to complete this entire DIY home. The DIY concept is in line with CUBS mantra of simple home solution designs in a Box. We believe that designing and decorating a home should be made a family affair and not just limited to the women of the home. Here is a home tour of one such home where DIY is at its DNA level and the entire space is done by Krish in a span of few weeks with just another helper. Bravo!!!
Here is CUBS in conversation with Krish.
CUBS: Please tell us something about yourself.
Krish: Being a Mechanical Engineer hasn't made me totally mechanical in life! I guess that is one of the reasons I have diverted to a field which is almost 360 degrees to my academic qualification. Presently, I partner in the first two private Indian FM radio stations RADIO OLIVE 106.3 FM (Hindi) and RADIO SUNO 91.7 FM (Malayalam) in the State of Qatar.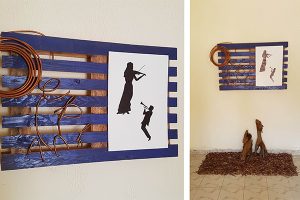 CUBS: There's obviously a strong DIY element in your space. What do you think spurred this?
Krish: I have always been fascinated by good homes decors. I keep looking at how even a small space can be made beautiful. When I moved into Qatar without my family, I did have almost a month to myself before I started with setting up the radio station. The easiest way was to pick the furniture from the store, but I guess I wanted to utilize my time and that's when these DIY from unused materials came to my mind.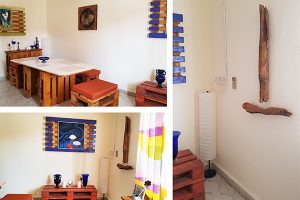 CUBS: Is the DIY Concept more about keeping costs down, creating unique pieces, both or something else?
Krish: Almost my first year in Qatar would be a life without my family being next to me as the workload would be tremendous. Until that time, I would have to think of only my likes & dislikes. When my family joins, I would like to give each one of the family the choice of their own in getting the home set up. So I thought the best way not to spend a lot of money unnecessarily on furniture, the best way to keep my mind & hands occupied, and at the same time create an environment appealing & to settle down to my likes was this DIY concept.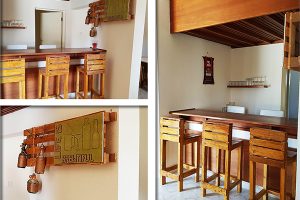 CUBS: We can see a particular pattern or theme in your space. A lot of reclaimed/salvaged wood is used here. Why this wood and how did you envision this space before you actually started working on this?
Krish: I did come across these kinds of salvaged woods at many places. Most of these were thrown away by shippers/ importers who didn't want it after their consignments arrived. I found these heavy and thought that it suits the production. I guess the air-conditioned environment would make it last longer. I am a person who likes to unwind after a long day's work and I would prefer it at my own home than any other place. Sipping a coffee sitting on the ground with low height furniture was the best option. I wanted to have a resort or a spa looks to my space and that's how the idea & pattern came into my mind. Moreover, appropriate lighting to these will give a very soothing look in the evenings & nights as well.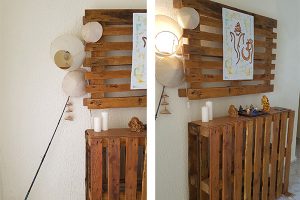 CUBS: How long did it take for you to complete this space?
Krish: Since I did not have more than a month, I wanted to finish this as soon as I started it. With the help of a couple of helpers, I was able to complete it within a month.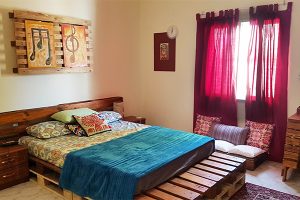 CUBS: Do you have any favourite spot or corner in your home? What makes this space work?
Krish: The only two spots I get to use with my present workload are the Drawing room & bedroom. I make it a point to sit in the drawing once in the morning and then in the night before sleep. The large windows in the drawing room bring in a lot of natural light, which gives me a positive start. But, I am happy the way each space has come up with my plan.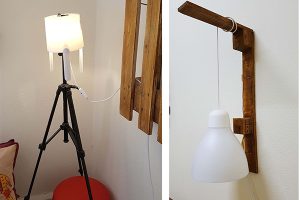 CUBS: What was the biggest challenge that you faced while designing your space?
Krish: I guess, the biggest challenge was that I did not have my wife next to me while I was designing the space. She is very artistic and is better than me in setting the right things at the right place. In a way, I think it made me use my brains more than what I would have used if she was here.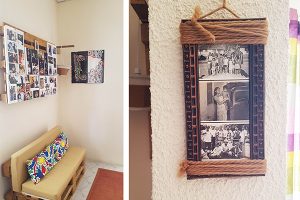 CUBS: What do friends have to say about this space?
Krish: In fact, most of the people have like it & I am extremely happy about it. It has given me a lot of confidence in trying out more of these DIY ideas.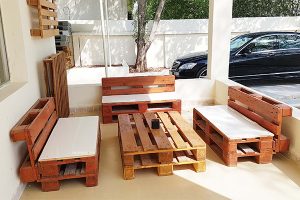 CUBS: In what other ways, according to you, is the concept of DIY expanding?
Krish: I guess the DIY ideas are there in every individual. It's just that people are busy in their world and hardly find time to get this executed when alone. Probably a group workshop will be an effective idea to get this expanding.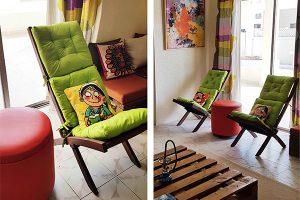 CUBS: If you could only choose one thing to do, to update the look of a room, what would it be?
Krish: Bring in my family as soon as possible!!…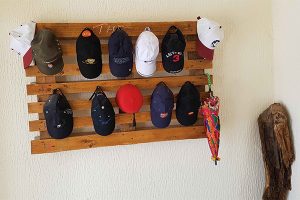 HAPPY COLOURING!!!
Thank You
Team- Colour Ur Blank Spaces