CUBS Design Stories: An Elegant Living room makeover
This is a home that holds a treasure trove of memories and a home that has seen it's many firsts.  The first home that the family bought, the first time they saw their kids graduate and leave, the first time where they saw their kids marry the spouses of their dreams, and the first time their grandchildren learned to take their baby steps. In sense of soul, this was a home through and through where friends and families always felt welcome like it was their own.
It's hard to let go of a home where every piece of furniture, every painting, and every accessory talks about a time and era well spent.  A couple that brought home memories from their travels, occasions, and moments. They could not have penned their lives any other way.  With most of the furniture taken away, it's still a home this South Indian couple wants to retain and refurbish to recreate new memories.  The only requirement they had was
"I have an affinity to White. Keep that as your base colour"
White is as good as a blank space for CUBS to start colouring
CUBS Analysis
The sparkling white tiles give a sense of large space and served as a blank canvas. The colourful stained glass French windows gave an old-fashioned appeal to the space. It was probably done when stain glass windows were very in. Instead of getting rid of it we decided to pick our colour palette from the stained glass. The key here is to keep the space contemporary yet punctuating it with traditional elements.   CUBS visualized the space in compartments:- A Living room,  A Reading Lounge, and  A Dining room.
Client Essentials
Existing Paintings
Existing accessories
Existing Sideboard
Before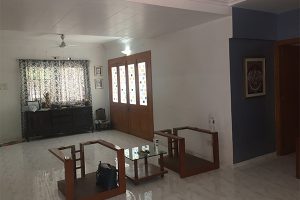 After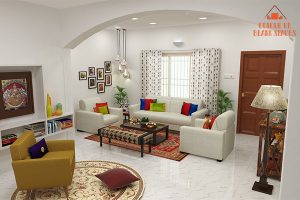 Design Board_1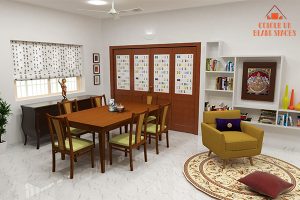 Design Board_2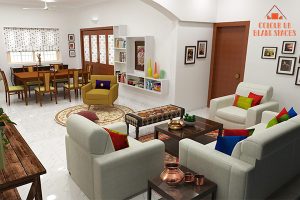 Design Board_3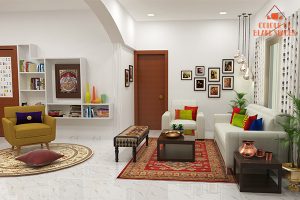 Design Board_4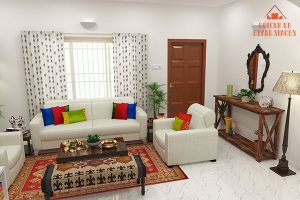 Design Board_5
CUBS Design Chronicles
A typical South Indian style living room will comprise of low seating's. But considering the age of the couple, we decided to do away with low seating. A white contemporary sofa set from Wooden street created an elegant classy living space
A bench is always synonymous to a casual homely feel. This Kilim upholstered Mudramark bench from Peppery fry gave the formal white sofa it's grounding.                                                                      Image Credit: Pepperfry
The traditional zari woven silk cushions contrasted the whites and gave a rustic appeal. It also balanced the colours of the French Window stained glass of the dining room                                                                      Image Credit: Desi Craft
The brass accessories and traditional Ravi Verma paintings gave classy and rich feel to this old bungalow
The white book shelf carpentered around the Tanjore paintings along with the Hagen Mustard Lounge chair over the round gave a cozy nook to the otherwise formal living room.                                                                         Image Credit: Urbanladder
Honeycomb cane teak dining table chair and table was an existing hand me down from their daughter. Cane always gives a sense of Indianness and warmth to any space
The existing walnut sideboard continued to find a space in its existing nook.
---
By- CUBS Editorial Team.