Diwali Decor the CUBS way!!
It's That time of the year again- Yes, Diwali is here!
Post the spring cleaning, our homes are lit up with love, laughter and happiness!
CUBS tried spreading the magic this Diwali with an eclectic décor that leaves a glow, adds comfort with simple stuff and classy decor, breaking the traditional cliche. A tasteful Diwali décor with candles, tea-lights, quirky lanterns and fresh flowers act as showstoppers on this auspicious day.
Featured here is a Diwali Table décor with a perfect mix and match of rustic and contemporary décor elements for an enchanting look.
We tried experimenting with bright, fresh Gerberas in red & yellow, replacing the traditional Marigold for a newer and classier look. These were spread across a pure white satin sheet with a shimmering crimson throw complimenting the flowers splendidly.
                                                                                                            Green Birdcage (https://www.at-home.co.in/)
The vintage birdcage definitely brings in a rustic and chic vibe to this space. Stuff some topiaries or succulents inside it – natural or artificial ones; house a few candles along with a strand of cage lights from Chumbak as an elegant accessory. Maybe you can put some antique boxes or pieces on the table, in Gold for that rich and sophisticated feel
The Moroccan style glass or metal tea-lights blend in perfectly with other small candle votives & the red ceramic urns and candles. It looks beautiful and doesn't swamp the space on the table.
Scatter a few Manjadikuru seeds over the sheet for that much-required divine touch. These are the magical lucky red seeds typically from the India & China, also known as Circassian Seeds otherwise. It is believed that any devotee who ploughs through these seeds placed in a Uruli- a brass decorative pot, attains prosperity. This symbolizes Lord Krishna's love & respect towards his disciples.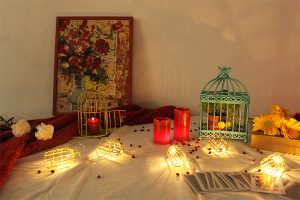 While we loved organizing every element here on the table- modern, rustic and urban in a classy style for Diwali this time around, we hope you found them inspiring enough!!
Happy Diwali from the CUBS Team!!!