CUBS Design Stories: Sales office-Stairway to your dream homes!
Some stories are very difficult to pen down. Like they say it's the journey that counts and not the destination. It was the first for CUBSpaces and definitely a stepping-stone from the regular residential segment. Here was a project we had to bag, a site/sales office: Wildwoods Phase 1 By Manav Group, catering to the mid-segment population. Not often do we get customers who give us a free hand in thinking and designing their space. Always a designers delight to take up such a project. Before we started designing we delved a little deeper to understand how the average urban Indian thinks before buying a home. Thus began our journey.
CUBS Learning's
The burgeoning middle-class segment in India is a very interesting segment. Everyone has aspirations when it's about moving up the ladder. But aspirations are very subjective. What is aspirational for a middle-class person is very different from what is aspirational for an upper middle class or for that matter even a rich person. A mid-segment person always measures aspiration from a value of money lens. For an average urban Indian aspiration or luxury can never be a trade-off from functionality. They may buy luxury products essentially to maintain a lifestyle. But the intrinsic value of the luxury product is still low for them. Keeping this learning in mind we charted out a storyboard when a potential buyer walks into a sales office. There are many thoughts that run in his mind such as
o Is the development aspirational?
o Is he an honest builder?
o Can I afford it?
o Am I comfortable?
o Will I be taken for care of?
o Is it value for money?
The sales office is always the first checkpoint to influence the decision making for buying a home. Hence it's important that the sales office answers the above questions. Simply put, a smart sales office must
Have customer's journey mapped- from a potential buyer to customer
Create an environment which is not the only representative of what the development offers but should also be representative of what the customer expects or want to see
Average Indian Traits to consider while designing the space
| | |
| --- | --- |
| Average Indian Do's and Don'ts | Sales Office requirements |
| Don't like to be bombarded with too much information | Do not hard sell. Do not start selling in the door |
| Travel with kids everywhere. Even to buy a home | Have a kid's corner in the office instead of outside to ensure safety |
| Don't like to take permissions before seating | Your seating should reflect that. Comfortable and welcoming waiting area. |
| Aspirational yet functional | Sales office can be glamorous but not cold and intimidating |
Design Requirements
Kids Area within the vicinity of discussion rooms
Past project display
Cozy Waiting room
Glitzy and glamorous without compromising on functionality.
Before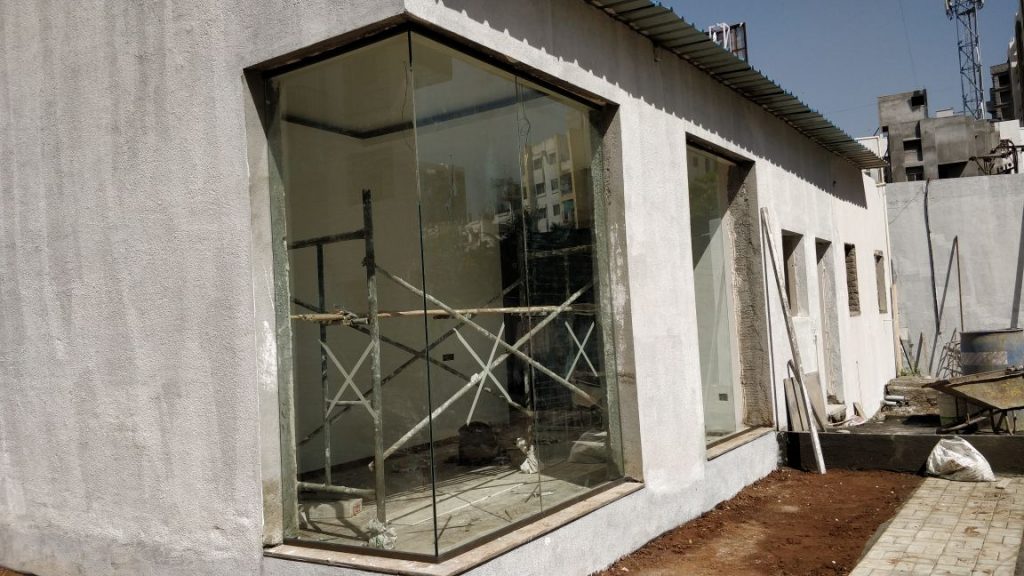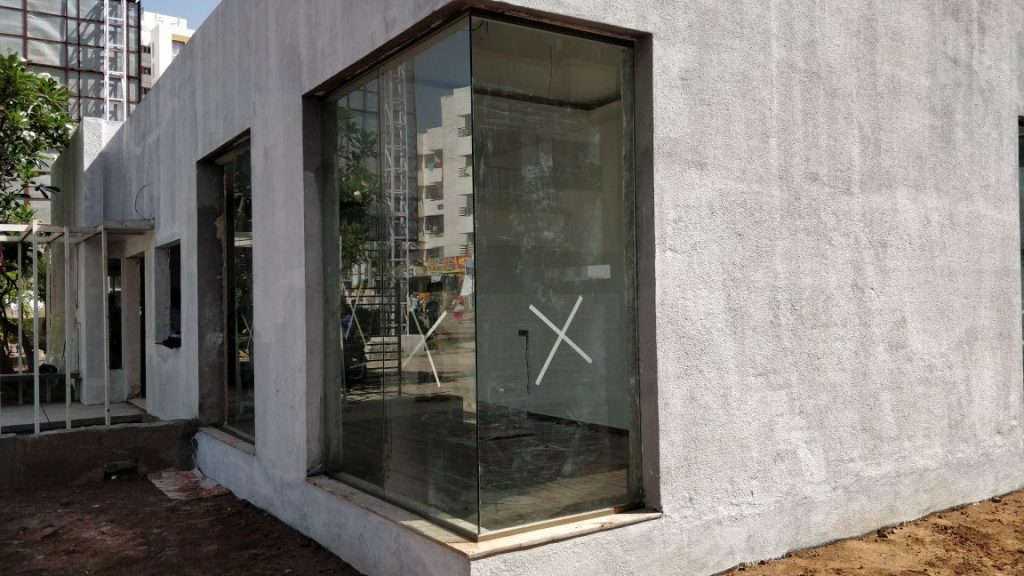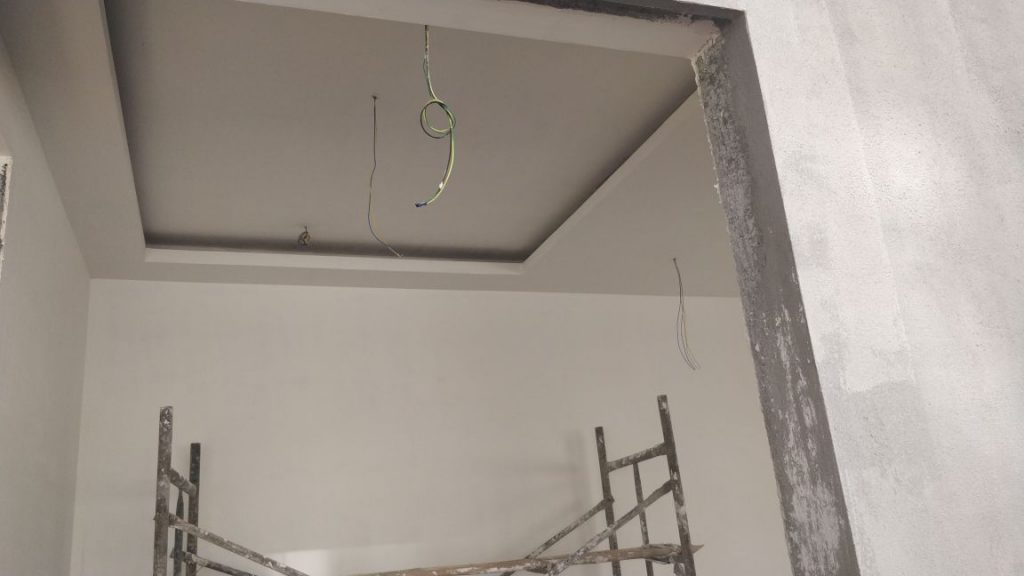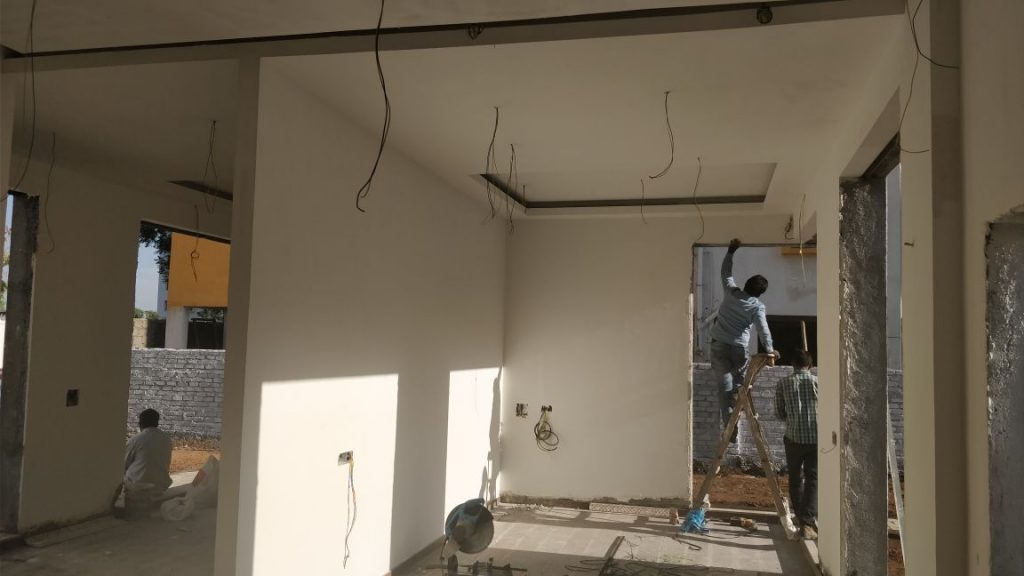 After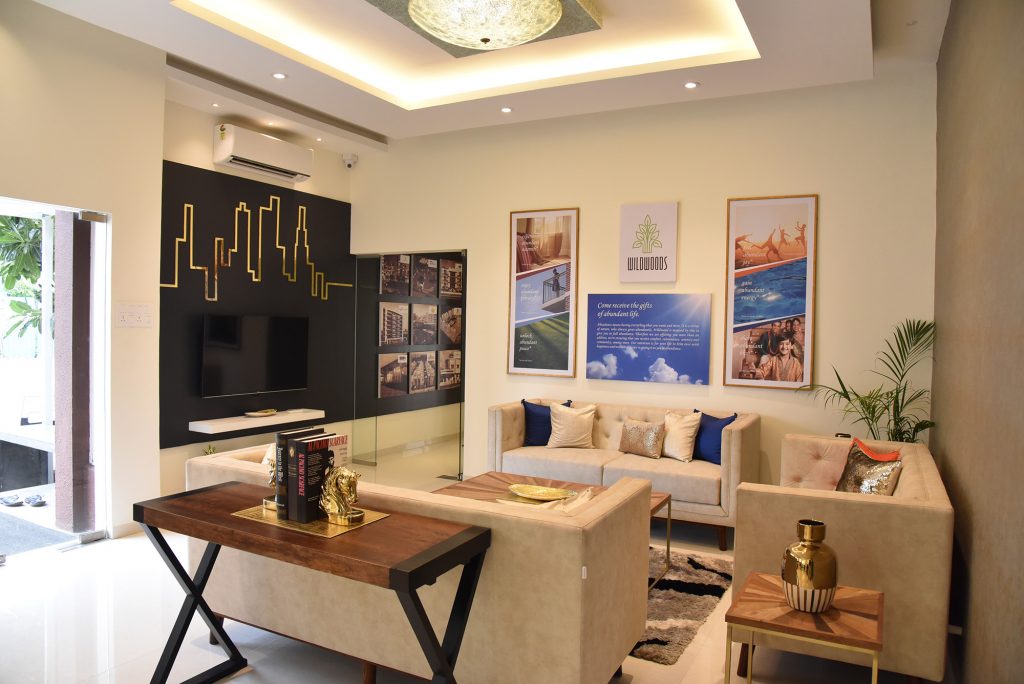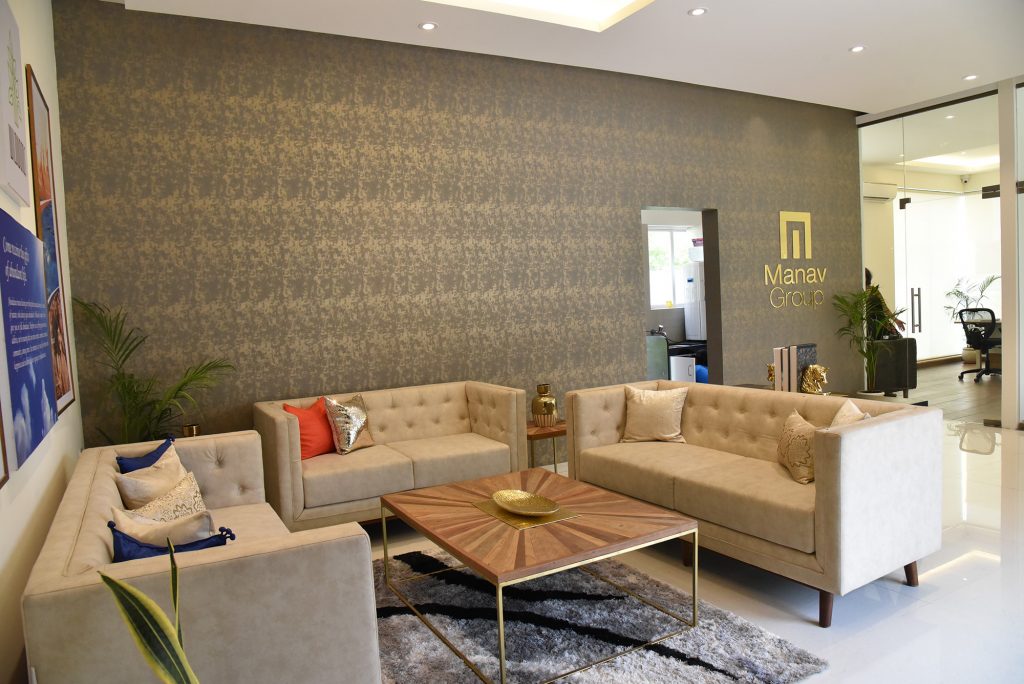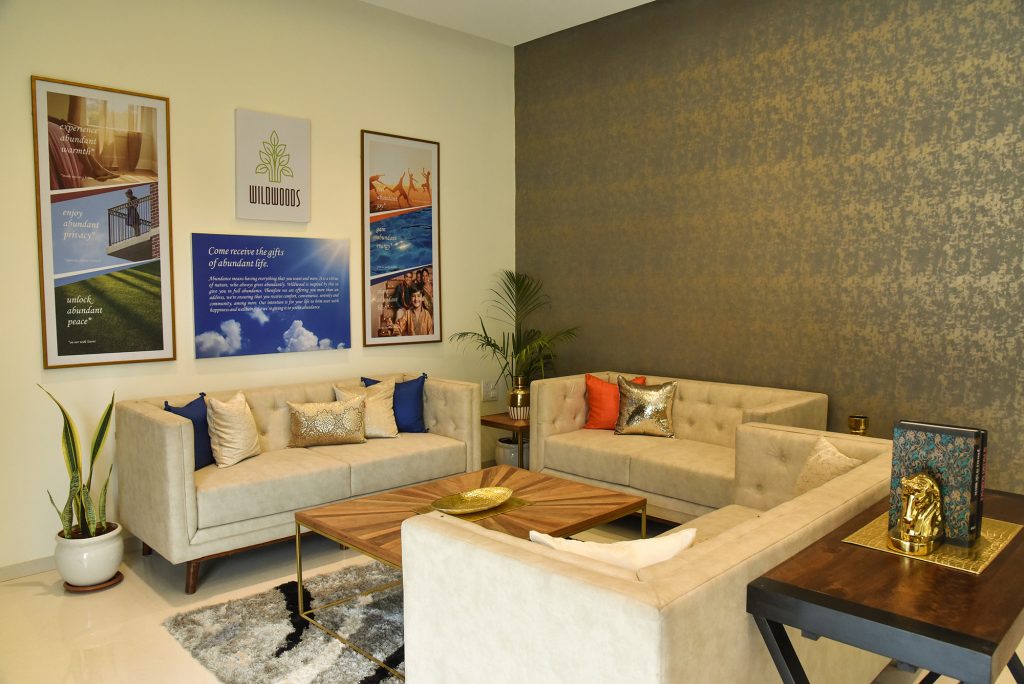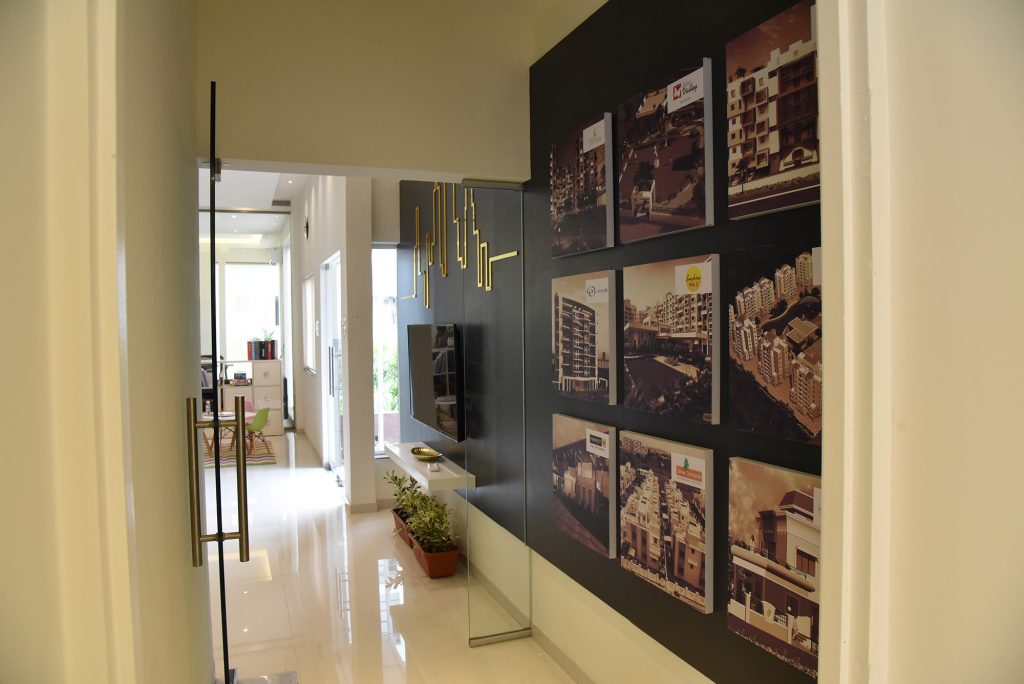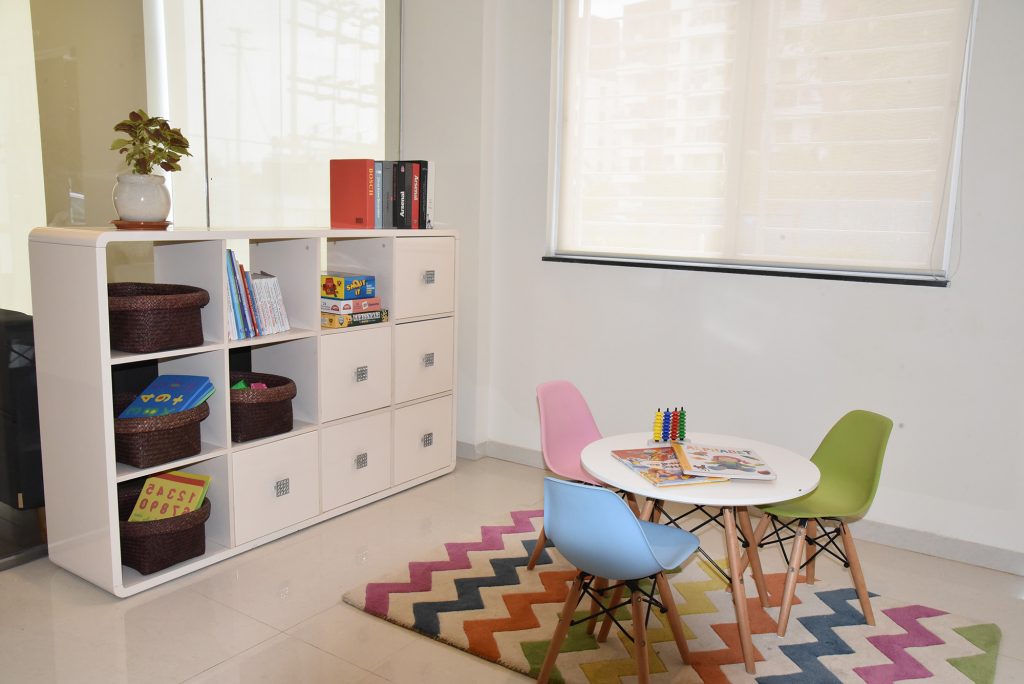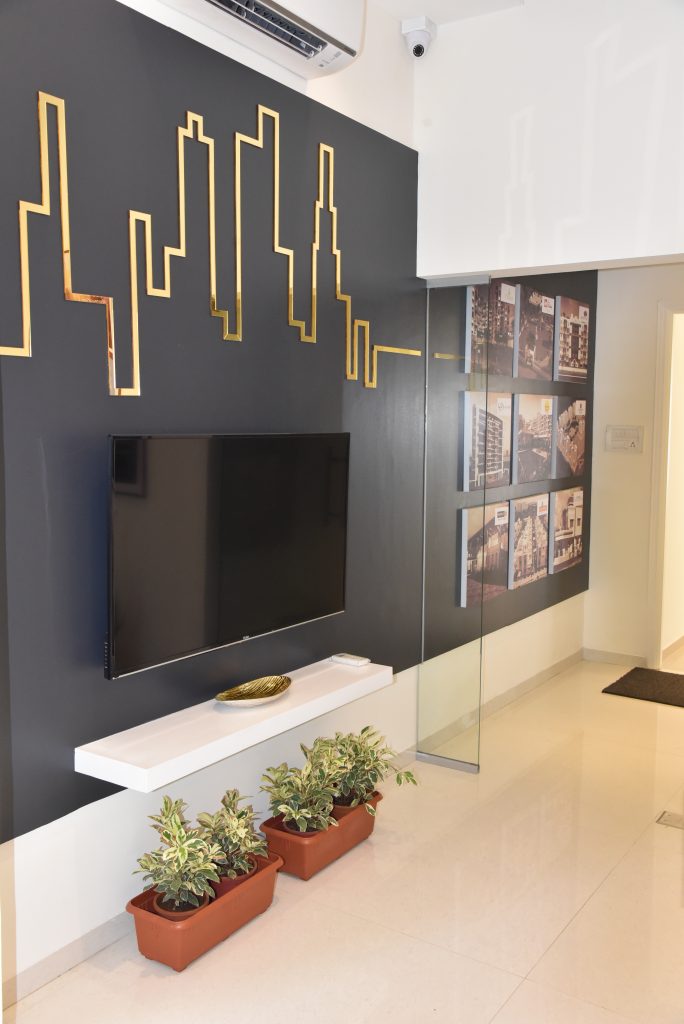 CUBS Design Stories
Zonal segregation was done for space planning namely collaborative, leadership, kids corner, display gallery and service area.
 The tufted beige mid-century inspired pin tuck sofas with art deco legs customized from Mint Homez gave the waiting room an impeccable style statement.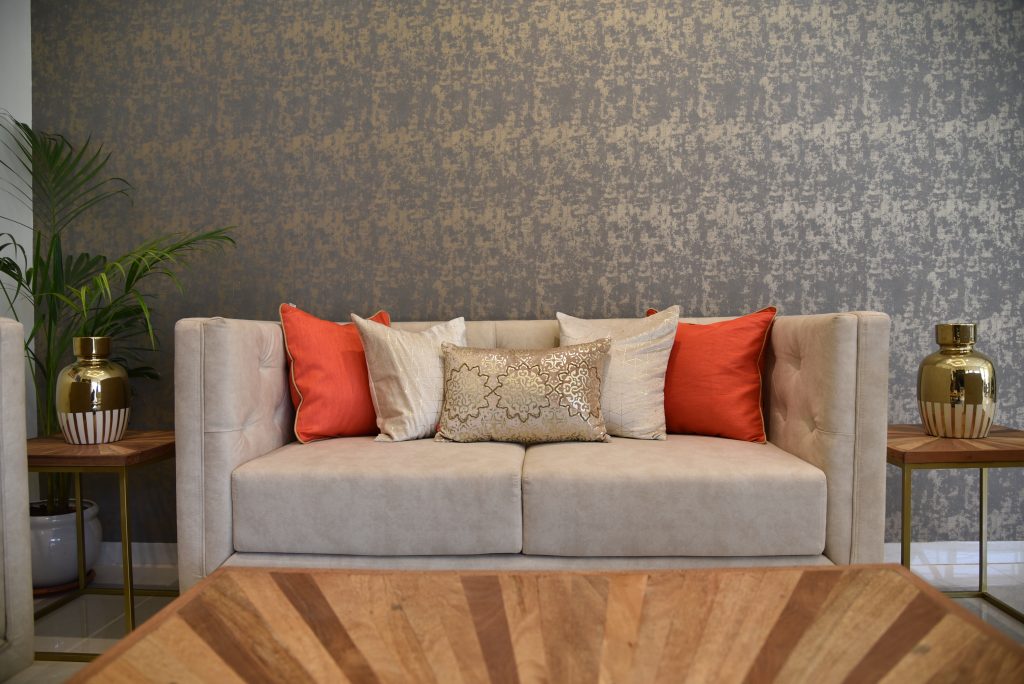 The gold understructure coffee table and side tables from Mint Homez balanced out the theme.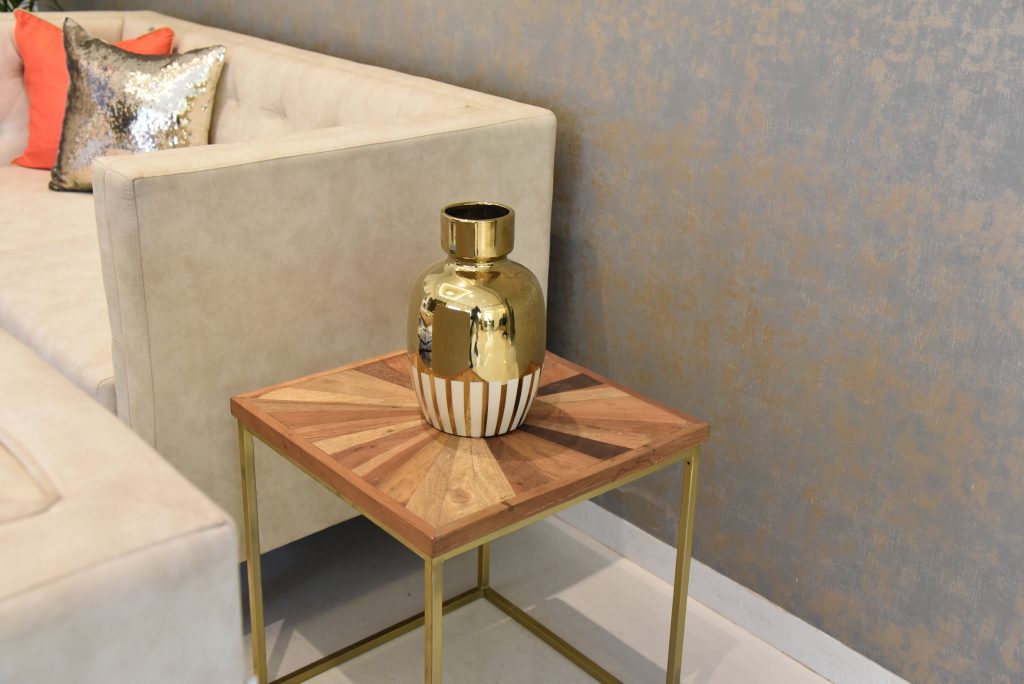 Abstract golden grey wallpaper exuding elegance and luxury was the highlight of the room.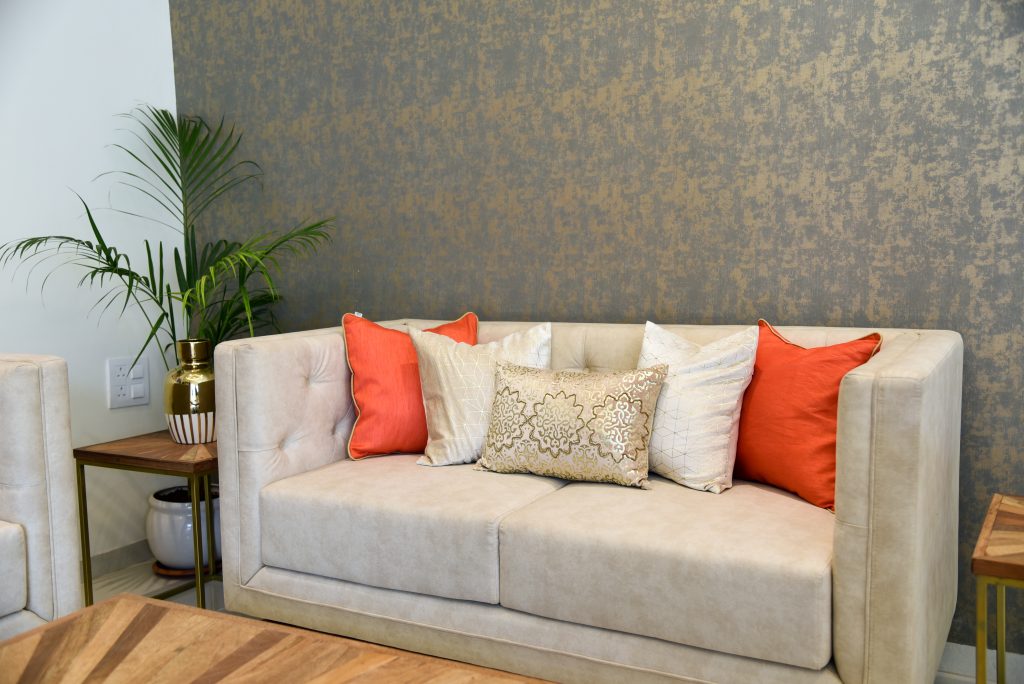 The Manav Group Logo in Gold on the rear end wall of the sales office gave a majestic appeal to the brand and an emphasized luxury.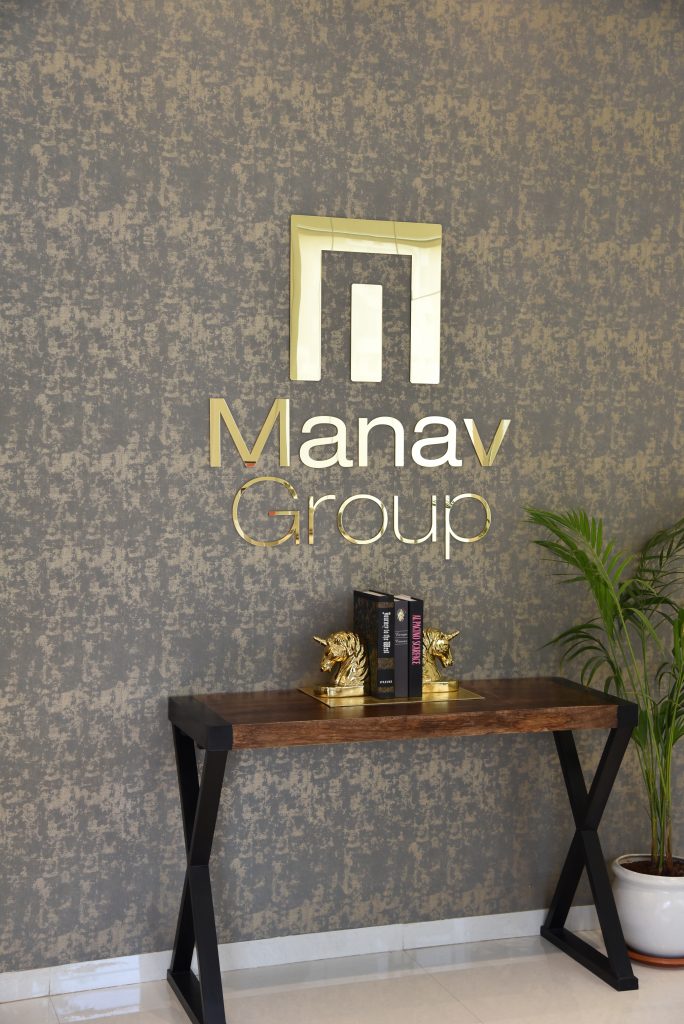 The cozy kid's nursery with neutral shades made sure that it did not clash too much with the luxurious gold theme.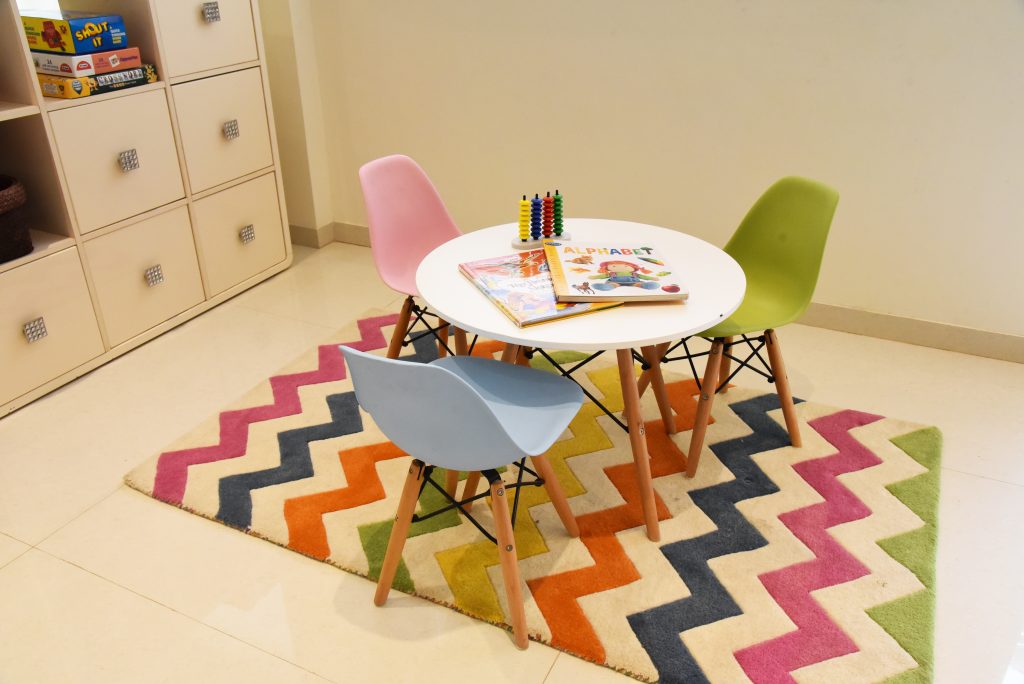 The past project in Sepia tone hung on the passage walls displayed their exemplary portfolio.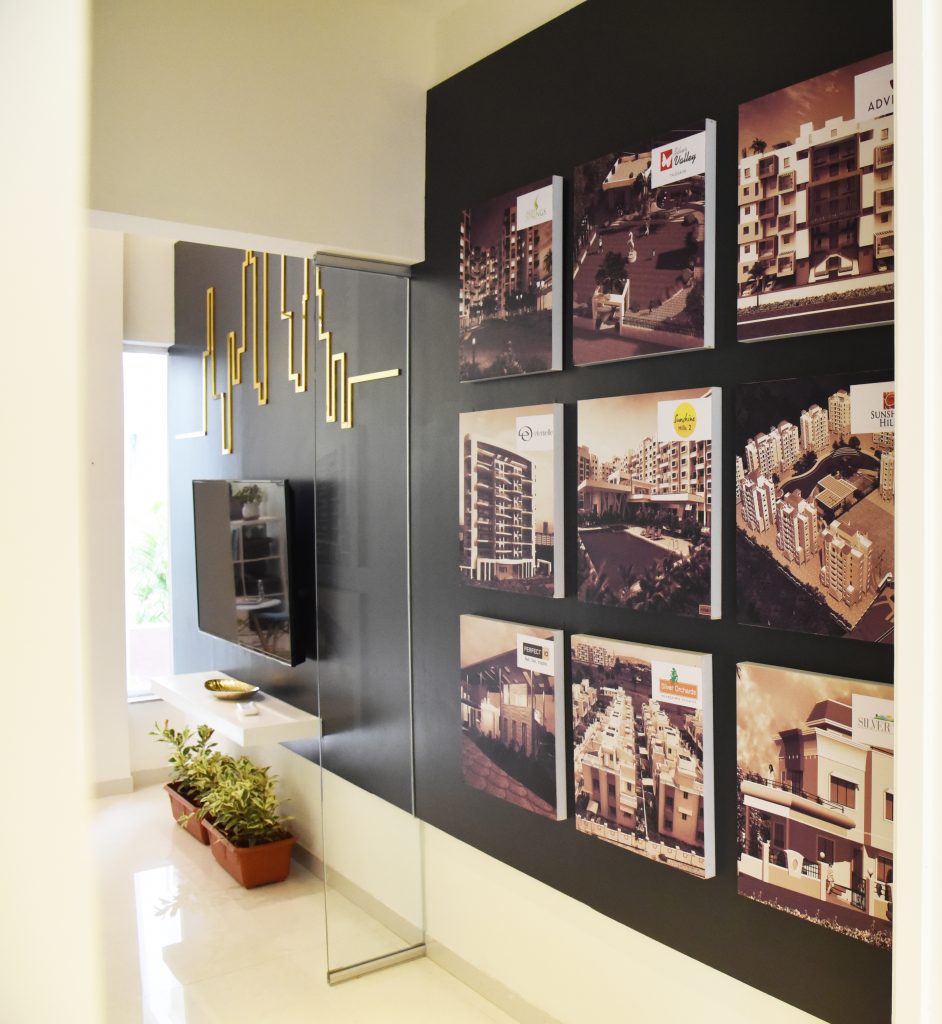 A continuing gold skyline against the dark grey background, was symbolic a representation of their belief "Every one is entitled to a luxurious home".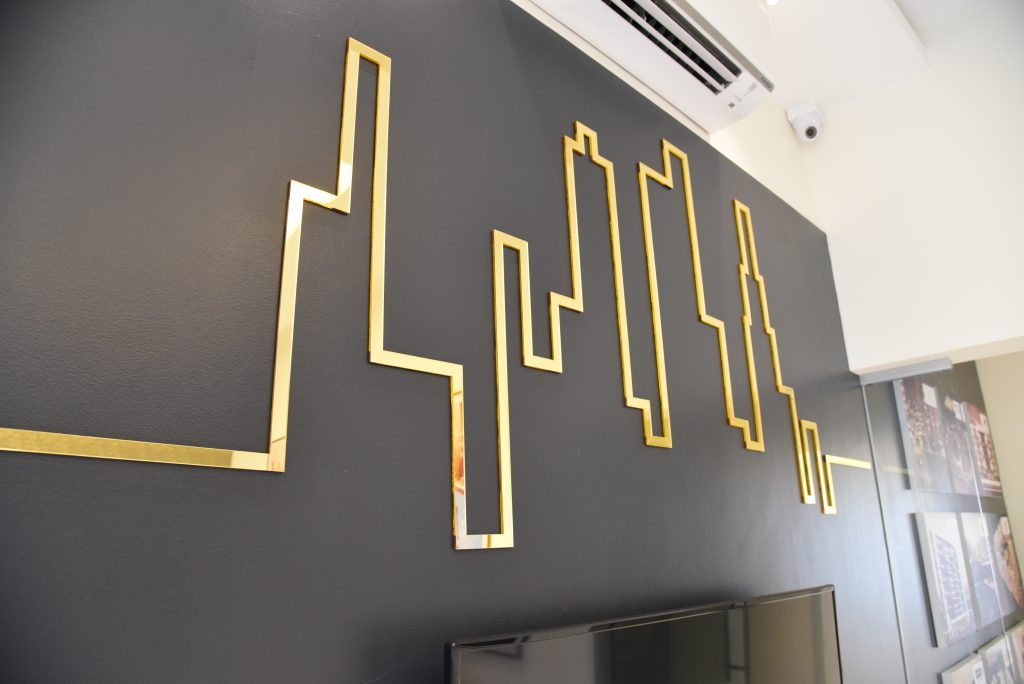 Go and book your homes with Wildwoods, Manav Group to receive the gifts of abundant life!! Get in touch with www.manavgroup.in